Everything that is discussed when purchasing a tilting quick coupler for your current or future machine is which type to purchase: a Hydraulic Actuator tilting quick coupler (also known as a Motor) or a Hydraulic Cylinder tilting hitch (also known as a Ram).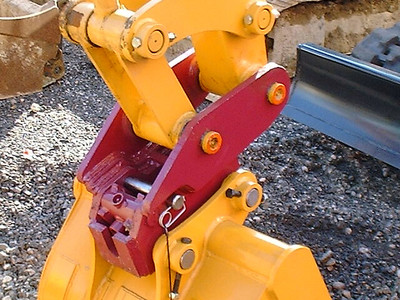 Actuator style hitches are used for civil and road construction, while Cylinder style hitches are used for agriculture and forestry, according to traditional industry perceptions of each hitch type. However, as more operators and businesses use each design across a broader range of applications, these beliefs are being called into question more and more. We'll go over the advantages and disadvantages of each tilt hitch type, as well as what factors to consider when purchasing a tilting quick coupler.

The most noticeable distinction between a Cylinder tilt hitch and an Actuator tilt hitch is the maximum tilt ranges available. Because of their inherent design, cylinder tilt hitches are limited to a maximum of 90 degrees or 45 degrees in each direction.

The Cylinder pushes the hitch base in a straight line, with a fixed pivot point at the center of the unit. The hitch base has a fixed pivot point at the center of the unit. To tilt the hitch base more than 45 degrees, the Cylinder would have to push the hitch base further than it could travel from a fixed pivot point. Tilting hitch designers all over the world have experimented with a variety of novel solutions to increase the tilt of a Cylinder style hitch without much success. This is primarily due to the additional complexity that each of these systems required in order to achieve additional motion.

Price is an important consideration

When compared to their Actuator counterparts, cylinder tilting hitches are significantly less expensive up front, saving the user money in the long run. This is what makes them so popular as a low-cost hitch with reduced tilt and increased width.

For the most part, actuator tilt hitches have proven to be a worthwhile investment for most earthmoving businesses, particularly for multi-role contractors, due to their increased tilt and significantly reduced width. Over a period of 5-6 thousand hours, the additional cost of an Actuator powered tilt coupler is more than offset by the increased productivity gained as a result of the tilt coupler.